Current
DanceMoves provides a range of bespoke dance projects, aiming to improve individual health and wellbeing
In the community we are running a weekly integrated and inclusive dance group for people living with a dementia, their carers, family, and friends.
Tuesday's 11.00 – 12.30.  Horizon Community Centre, Coldhams Lane. Please see the poster below: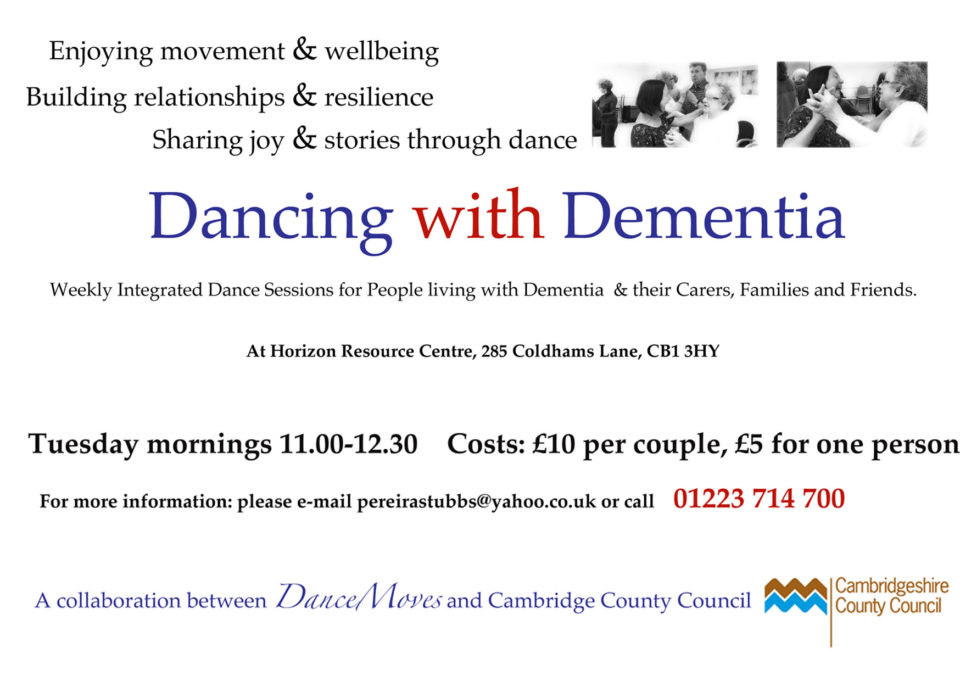 SMILE
The film 'SMILE' is a snapshot film of an integrated dance session held at the Cambridge theatre space, The Junction CDC.
Whether you are someone caring for a person living with a Dementia, someone working with Dementia, a community dancer interested in healthcare, a dancer or artist, or simply an interested person, this film shows how important and joyous it is to bring the Arts to people from all walks of life, and at all stages of life. One of the most important things our group achieves is to reduce people's sense of isolation and loneliness. We come together and create a community that brings results to us all.
Filmed and edited by Toby Peters, of Marmalade Panic, and directed by Filipa Pereira-Stubbs, director of DanceMoves, it is a film that gives all kinds of audiences, world-wide, an opportunity to view what an integrated dance session looks like.
'Dancing for Dementia'
This group brings people together in dance, music and song.
We move away from the boundaries that living with Dementia can impose, and we restore our sense of community, of supporting one another, of being important to one another.
We share our common human need to have meaningful relationships, to care for one another, and to exchange narratives and perspectives on the world.Coming together weekly to move and dance brings us space and opportunities to work with our bodies and beings, find relaxed and peaceful moments, and build resilience – all with an ongoing sense of pleasure, delight and celebration.
We remember how we are, and we remind each other of how precious life is.
Autumn 2015   Dancing for Dementia @
The Junction CDC  
The Cambridge Dancing for Dementia group took up a mornings residency at Cambridge's Junction theatre space.
Our aim was to move in a beautifully lit and theatrical space in which to begin our newest project  – filming the group to its best advantage. The Junction CDC generously offered their theatre space.  The stage was lit, participants arrived – into a new and very different setting.  We found that despite the newness and unfamiliar surroundings, we were able to rise to the occasion and reach richly into the new possibilities the space offered us.  It was a wonderful and memorable morning.  The film will explore why we dance, how we dance, and asks the question, "What would we be doing if we weren't dancing?". Editing has begun…stay tuned.
Addenbrookes
DanceMoves devises and delivers weekly movement sessions across three wards at Cambridge University Hospitals, working across the Department of Medicine for the Elderly and Neuro-rehabilitation. These sessions are delivered in collaboration with the Falls Coordinator, with the support of nursing staff.
To read more about DanceMoves' work in a hospital setting, click here.
In 2014, Cambridge University Hospitals invited DanceMoves to devise and deliver a series of dance workshops for patients and staff from the Department of Medicine for the Elderly and Neuro-rehabilitation wards. 'It's Something Different' is a snapshot of the different sessions and the staff involved in the pilot project.
Dancing for Dementia: Opportunities, Companionship, Wellbeing
DanceMoves is passionate about dance and movement making a real difference for those living with dementia and dementia care, incorporating the therapeutic values of integration & inclusion, imagination & creativity and body work & dance. Becoming a part of a group of dancers, whose different life experiences are accepted and calibrated into meaningful communication and conversations, achieved through dancing and socialising together, allows all participants an enhanced sense of physical, social and mental well-being.
DanceMoves believes that dancing is important and joyous. We encourage participants with cognitive difficulties to become more resilient. Working in small groups and pairs helps develop and sustain meaningful relationships, sometimes in the face of loneliness or confusion. Becoming part of a group of dancers helps people feel an enhanced sense of physical, social and mental wellbeing.
My mum Pauline has been attending Filipa's wonderful group for at least 3 years now, and every time I pick her up, I'm met with such a blast of good energy, from her, the carer, Filipa, as well as other members of the group – all energised by the music, by the gentle rhythmical waves of movement the sounds have inspired in everyone over the session. It's a delight to see this, and I'm convinced that this work is crucial for those with dementia: it taps into the unconscious place of sound in the brain, beyond words, beyond conscious memory of our patterns of work and routine, into our subconscious semantic memory, deep in the cerebellum – and unleashes vigour and warmth, and overall a sense of joy.
This is crucial and urgent work that Filipa and her team of supportive volunteers are doing for those with Dementia in cambridge, including my lovely mum Pauline. Mum has had a diagnosis of dementia for 8 years, and in that time I have seen her physical functions such as speech and motion decline, as well as various daytime classes and other groups fold or be unable to support her – this group welcomes all comers each week at whatever place they are in, and during the session transform that into beautiful physical and musical therapy. It is urgent, crucial work, and needs to be supported.
James Murray-White
Dancing For Dementia at Horizon, Cambridge City
Dancing for Dementia:
A weekly dance group hosted by Cambridge County Council at Horizon Community Centre, Cambridge. The group is for people living with Dementia and their carers & families. Dance artist Filipa Pereira-Stubbs and a stalwart group of experienced dance volunteers lead weekly movement and dance sessions. The goals of this inclusive and integrated group are to develop enjoyment of movement and a sense of well-being, to build positive relationships and resilience,and to create joy and shared stories through the ancient arts of dance, music and song. We believe that everyone has access to movement and dance – at all stages and ages of life.
Dancing for Dementia offers new opportunities.  Companionship and fun through resilience, building relationship and resilience, enjoying movement and wellbeing.
Weekly Integrated Dance Sessions for people living with a Dementia and their Carers, Families and Friends.
At Horizon Resource Centre, 285 Coldhams Lane, CB1 3HY
Begins September 1st until mid-November
Tuesdays mornings 11.00-12.30
Costs: £10 per couple, £5 per person
for more information please e-mail or call 01223 714700
To enjoy a glimpse of previous Dancing for Dementia sessions, please click here.